Community Services
According to its catholic and community vocations, revealed by its inherent shelter and social sensitivity, the university acts strongly in social projects and value the voluntary work as a component part of the university education.
Restaurant School
Project created in a partnership between UNISANTOS, the City of Santos and the Ministry of Tourism, the Restaurant School Bistro Station enables young people, aged 16 to 21 years, enrolled in the Center of Social Assistance Reference to develope a career in the gastronomy field.​
With the theoretical basis developed by nutrition and gastronomy professionals, these young students have the opportunity to put into practice the knowledge acquired in areas such as kitchen, lounge (service), bakery and bar.
Restaurant School Bistro Station is open from Tuesdays to Saturdays from 12 p.m. to 3 p.m, at Valongo Station (Largo Marques de Monte Alegre), in the historic center of Santos.​
Social and Psychological Support
The Social and Psychological Support (SAPES), which offers support for students with family conflicts and/or mental and physical diseases, and the Program for the Initiation into the Academic Life (PIVA) are two important university services devoted to students.​
Community services also include several kinds of scholarships as well as cultural and arts projects, among which is the Young Symphony Orchestra, composed of 50 voluntary musicians, many of whom on scholarships.

foto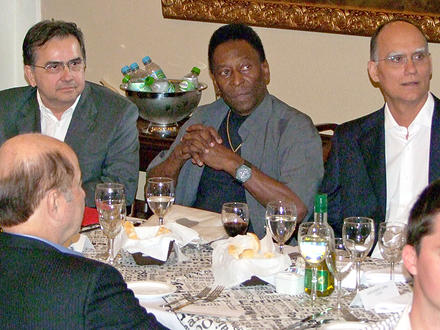 The legend of brazilian soccer, Edson Arantes do Nascimento (better known the world over as Pelé) in a visit to the Restaurante School, in Santos, sided by the city authorities