Access to services​
ONLINE CATALOG
Search for books, journals (magazines, newspapers and newsletters), monographs and dissertations.
USER ACCESS
Renewals, reservations and pending materials.
JOURNALS
Exclusive search for journal titles in the Unisantos Library System.
A-TO-Z​
Service developed by EBSCO that allows libraries to manage its respective collection of e-journals, publisher packages, databases and e-books in a single search interface (requires login).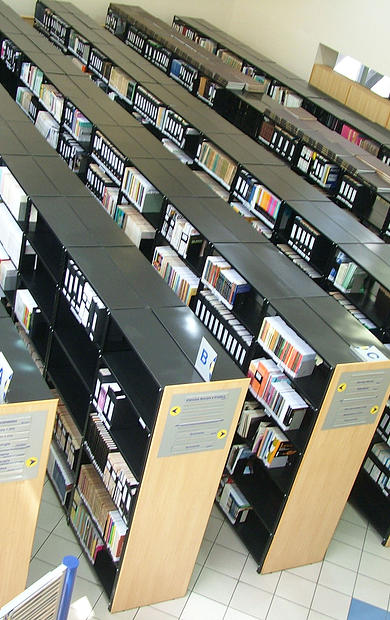 GEDWEB
Tool that manages large collections of norms and technical documents. Furthermore, it provides multiple user with an easy and simple web access to these documents for approval, search, viewing, and printing (requires login).
DIGITAL LIBRARY OF THESES AND DISSERTATIONS
It makes available, in digital format, UNISANTOS Master's Program dissertations in Law, Education, Business Management, and Public Health, as well as being integrated in the Brazilian Digital Library of Theses and Dissertations (BDTD).
BRAZILIAN DIGITAL LIBRARY OF THESES AND DISSERTATIONS
it integrates in one web portal the information systems of Brazilian theses and dissertations, in addition to providing the national catalog of theses and dissertations in full text.
BIBLIOGRAPHIC COMMUTATION PROGRAM
The Comut/IBCT allows users to obtain copies of technical and scientific documents available in the collections of the main Brazilian libraries.
FREE SEARCH WEBSITES
Besides providing the international and Brazilian databases, exclusive to students, professors and staff, the Catholic University of Santos also contributes to academic research indicating public access websites relevant to various knowledge areas.
CONTACT
biblicen@unisantos.br
Rules and Announcements
• Observe the deadlines to return borrowed materials. The student is liable for a daily fine in case of overdue returns.
• Renewals can be done online as long as the materials have not been reserved yet or its return is not overdue.
• The system allows for up to 5 renewals by the same user.
• Avoid doing renewals at the last minute.
• Update your e-mail address to receive messages and notices from the library. The fact that you have not received the message by e-mail, regardless of the reason, does not prevent you from paying late return fines.
• Read the Rules and Regulation of our Libraries. They are available for download at the link below or on the banner to the right.